Archive for the 'Kyle' Category
The summer went by so fast. School is here again. I am excited, but sad at the same time. I can't believe I have a 3rd and 1st grader. It's crazy. They are getting so big.
Yesterday was a busy day.  Not only was it my anniversary, but Kyle had his kindergarten promotion.  It's crazy how fast this year has gone.  Kyle did such a great job in kindergarten.  Congratulations Kyle!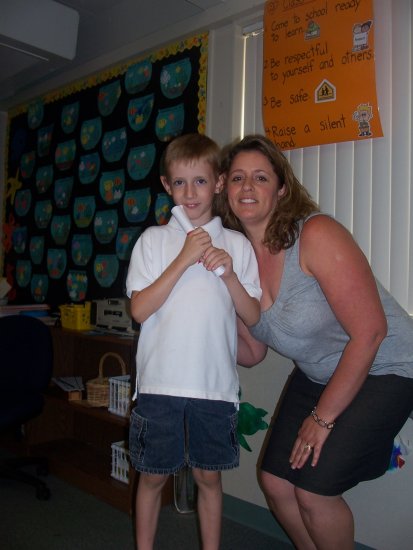 Kyle's two teachers  Mrs. Pearson and Miss. Bains
When I asked Kyle who his best friends were he said Haley and Alyssa.  They were tied too on who was his favorite.  I guess he had a pretty "steamy" romance with Haley this year.  Super funny.
Watch out First Grade, here comes Kyle!
Yep, the season is over and Kyle did a great job! Here he is up to bat at the last game. If you'll notice there is NO tee. Kyle also hit a ball so hard that he made it to second base. Mom was so proud and Kyle was excited.
Jacob also was able to use the camera for a second and took a picture of his friend.

After the game, the assistant coach brought a baseball pinata. Kyle loves pinatas. We then loaded up the van and headed to the local pizza place for the team party.
Kyle was so excited to get a trophy.  He has always wanted one.  I am so glad I signed up Kyle for TBall, I think he really enjoyed himself . Thanks Jance for being such a great coach!
Yep, we signed Kyle up for T Ball this year. For Easter and his birthday he got everything he would need. Last Thursday was his first practice and Saturday was his first game. He did such a good job. We really need to practice though. Here are some pictures.
This was at Kyle's first practice. He really didn't know what to do, but still had a lot of fun. The last picture is with his best friend, Josh. We are so glad they are on the same team.
These are of Kyle's first game. He got to bat first. The second picture was from him running home. What fun!
I'm always running late, but this is bad. Kyle's Birthday was last Sunday on Easter. He is 6 now and is just a spunky kid. Here are some things Kyle's into:
Any video game
Anything having to do with the computer
Playing store
Ben 10
Ninja Turtles
Star Wars
Deigo
Playing T-ball (his first practice is Thur.)
Reading
Spelling
Monkey Bars
Dressing up in super hero costumnes
Kyle is an awesome kid. He is constantly doing something and has so much energy. He is not a big fan of school because it's boring, but loves to read and is always showing me how he can spell words. Just today he was so excited when he understood a word I spelled so Jacob wouldn't know what I said. He was so happy with himself. At school, his favorite thing to do is the monkey bars and has no problem letting everyone know how many times he goes across. Kyle also just loves to run. He runs the track around the playground ( I say, go for it, run all that energy out!). At home he wants to do the same thing, except his little brother is right behind him. He loves to do anything with his brothers and as much as he and Jacob fight a lot, I think they will be good friends soon.
Kyle is also a very spiritual child. He is the first to want to read scriptures and he has shared his testimony in church twice. He has so much faith and uses it in his prayers. Many times he has suggested that he say his prayers for one thing or another. I know Kyle is here to teach me how to use my faith more. I am so glad Kyle is in our family. He keeps us laughing with his funny jokes and sayings. He loves anyone's attention and loves to be in the limelight. It's crazy that he is getting so big.
Within the past couple of months Kyle has said a few funny things, so here they are.
We had the sister missionaries over for dinner at the beginning of this month. One sister is from Australia and thinks we have a lot of funny sayings. She writes down all of her favorite ones for the day. While eating dinner Kyle said, "My mother is my grandma's mother." Kind of confusing, I know. He was trying to say that his grandma is my mother's mom, but it came out wrong. Let just say he made us all laugh and made it on the sister missionary's list.
Last week, Kyle came home from school and was excite that he got a sticker for turning in his homework. He showed me and told me it was a rock leaf. I was confused at what I saw and what he was saying it was. Joseph and I began to correct him by saying it was a four leaf clover. It then struck me, I told him it was also called a shamrock. We all laughed as he said "Oh yeah, a shamrock!"
Kyle is such a funny kid!
Today has been a pretty good day. The boys were so good this morning, getting ready for church. I didn't have to scream at them once to behave. We actually got to church early, which made me very happy. I should do that more often. Today was fast and testimony meeting. I leaned over to Kyle and asked him if he wanted to go up and bear his testimony. His eyes get watery and my heart breaks. I tell him that he doesn't have to go up, I just wanted him to know that he could if he wanted. He told me he was scared and would maybe try next month. I said that was fine and ended it, only to have him lean over and tell me he didn't know what to say. I told him that I would help him and he decided he would try. I got all teary eyed and tried to have him ask Kent to take him. I didn't think I would make it through his testimony and mine. I didn't make it. I was blubbering before he was finished. I was so proud of him. I love how close to the spirit little children are and how simple their faith is. Oh, so happy. Well, the rest of my day was about as much fun. I actually took a long nap today to, so I'm pretty chipper. Hope everyone had a good day too. Luv ya lots!