Archive for February, 2009
Many of you have told me I need to update.  I know, I know I do.
Be warned though that this is four months of updates.
Here we go!
October was a new experience.  We still had lives, but had to shuffle everything around for Bishop duties.  It wasn't too hard, but a little difficult.  We managed to have fun though by going to the pumpkin patch a couple of times and all the Halloween fun.  Joseph was a storm trooper, Kyle was Indiana Jones and Jacob was a Ninja Turtle.  Kent and I also had fun going to a 70's Murder Mystery Party.  We had a blast at the party and enjoyed dressing up!
November and December went by way too quickly.  And of course, I didn't have enough time for anything.
For Thanksgiving, my sister Jessica and her family came to California.  We had fun playing games and watching all the cousins play. The Thanksgiving dinner was awesome too!   Thanks Jess for coming out.  Grandma Buchanan was also here for Thanksgiving.  The Saturday after Thanksgiving, all of the adults went to a Dinner Theater together.  The girls had the most fun, but it was nice to get away.  Jacki also turned 31 this month.  yeah for me!
December was a mess.  Kent was gone almost every night for tithing settlement, which meant I was home with the kids all the time.  Christmas shopping was difficult this year with Kent being gone so much, so I was glad I got most of the presents on Black Friday.  yeah me!  The Christmas tree didn't even get put up until a week before Christmas and of course, no letters went out either.  I hope I will be better prepared next year!  Atleast, I will know what to expect.  We did have a good Christmas though.  The boys asked for pretty inexpensive thing this year and Santa was happy with that.  The Friday after Christmas we caravaned with Kent's sister, Teri, up to Washington to visit Kent's other sisters, Dawn and Cami.  Most of the siblings were there and we had a good time playing games and hanging out.  The cousins even played school!  We were worried about the drive up there, but we didn't have really bad weather until Vancouver.  They had been dumped on  and our rental van didn't like it too much.  Next time we will get a 4X4.  We came home that next Monday.  Such a short trip, but we enjoyed seeing family!
January started off good.  We spent New Year's Eve celebrating my dad's birthday and then just hanging out with my sister, Juli, and her kids.  They all got along so well and all five kids were up past midnight.  Fun times!  I found out the first week of January that by the end of the month I would have no daycare kids.  It was crazy to even think about.  I have had daycare kids in my house for seven years straight.  I have had vacations and breaks, but always knew I would have daycare kids coming back.  So this was a little weird.  We also had to think about finances.    We were happy to see that we had saved some of the daycare money from previous months.  This made the loss of income a lot easier to handle.
The boys were off track for the month of January and a little of February.  This was good and bad.  They had a total of 7 weeks off.  Crazy huh?!  I thought I would go crazy, but it wasn't too bad.  They had their Christmas toys to occupy their time.  We also went to the bounce house on the last day I would have Maddy and Bella.  They had a blast and were exhausted by lunch time.  Kent also turned 32 in January, so he can no longer be called a 31 year old Bishop. Last Monday we spent the day in Redding, CA. We went to The Turtle Bay Exploration Park and saw lots of geckos. It wasn't busy at all, so we pretty much had the place to ourselves. We were a little sad that their water center was turned off, that was the boys favorite part last time we came. We were glad to spend the day together as a family.

Okay, We are updated. It's not as in depth as I would like, but now you know what has been happening at the Roper house. Check back after Valentine's Day though. Kent's Band is playing at our Valentine's Dance and I will HAVE to post about that. Thanks all of you who check back so often. I promise to post more often, not as often as Heather, but often! Luv you all and hope you have an enjoyable New Year!
Here are the rules:
1. go to your my document/my pictures
2. go to your sixth file
3. go to your sixth picture
4. blog about it
5. tag six people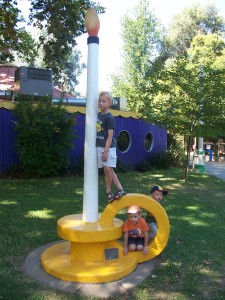 So this is from August 2006.  Long time ago!  We took the boys to Fairytale Town.  We all had a lot of fun.  I can't believe how the boys have grown.  Jacob was a year and a half in this picture.  He will turn four next month.  Crazy!